I came across this People
article
where they showed these celebrities rocking 1 piece of item in various ways at different times:p Here's an example, with Naomi Watts wearing her white oxfords...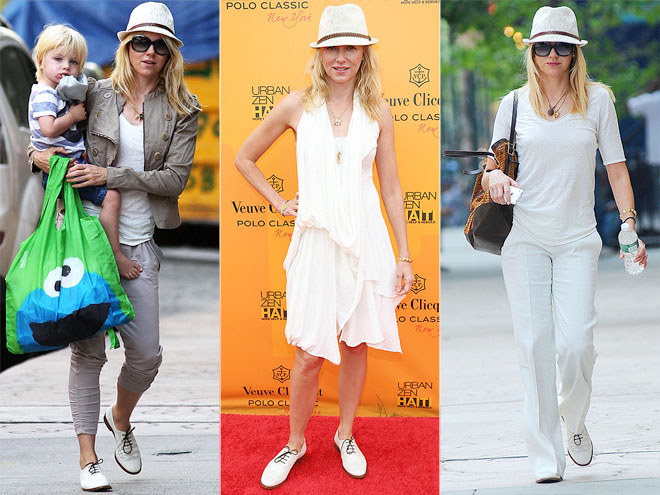 courtesy of peoplestylewatch.com
Got me thinking, naturally. What do I have that I'm really loving right now? Hmmm, guess it's gonna have to be my Clarks flat that I picked up on sale at The Bay in spring.
Ok, maybe not as varied as Naomi's outfits, HAH, and I know, it's black flats, ok? But I'm just really loving it right now. The best part, I didn't think I would like it that much.
The day I got those flats are the kind of days that has gotten me in trouble before. It all started with an ubiquitous coupon I received online and what should be a quick run to the grocery store. The coupon which led me to go to the mall, which led me to go to The Bay which incidentally happened to be on my way to the grocery store, and which led me to the shoe department on the 2nd floor, which is definitely not on the way to the grocery store. Then as luck would have it, they were having this massive sale, naturally! I don't recall anymore if I actually was looking for a pair of black flats (yah, right!). Next thing I knew, I was trying it on (it felt like walking on pillows), glanced at the metallic version right next to it, went thru a moment of whether I should buy it in both colors (which I didn't, thank god said the hubby, and huuhuu said I), then just found myself walking towards the cashier with a pair tucked under my elbow. Oh, the pleasure! A pair of black flats that happens to be what I "needed", and super comfy, and best part, on sale! It was written in the stars!
I know, cray cray!!!
I tell you now, those kinds of shopping days are some of my best ones! Having said that, those same kinds of shopping days are the reasons why I'm attempting what I'm attempting. My dad used to tell the women in the family (yes, it very well could be a family infliction) that sales will always be around. Always! You miss one? There'll be another one coming shortly after. But, oh, if you could hear the excuses in my head then. I could go on forever.
I know I've only started scratching the surface here, but it's a start at least, no? I know it'll get more interesting when I've exhausted every imaginable combination in my closet to form my daily outfits. I honestly don't even know when that may be, or if I would even reach that point, hmmmmmm...